Download Intel WiFi kext for macOS
Last Updated: Wed Jul 15 2020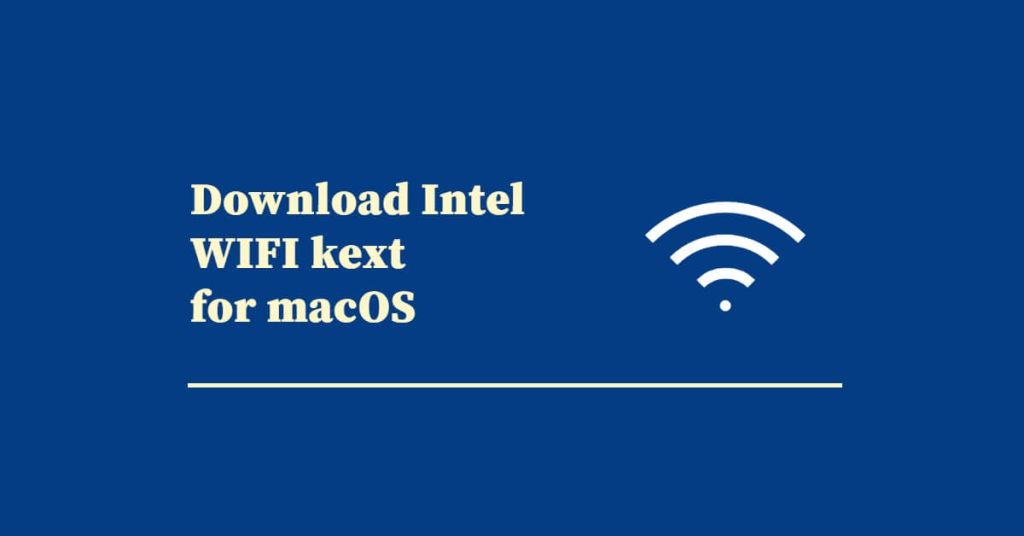 Most of the notebooks that are releasing today are equipped with intel dual-band wireless cards. As they are not so costly as compared to their counterparts and perform really well in terms of speed and range, they became a perfect choice for notebook manufacturers. However till now, apple macOS doesn't support these cards natively and also unlike windows, intel doesn't make drivers for macOS which lefts no choice but to replace the intel wireless card with a supported one. But some manufactures impose wifi card whitelist in BIOS which makes the system un-bootable if the card replace is not whitelisted and also theses replacement cards don't come with a cheap price tag. Which makes it a dealbreaker while making a Hackintosh notebook.
In 2016 a project was started to make intel wifi card compatible with macOS. The project created a lot of hope in the Hackintosh community however, due to some unknown reason the developer stopped working on the project and left unfinished.
Recently a developer zxystd (github) again started a project AppleIntelWifiAdapter in which he ported the Intel WiFi kext from OpenBSD Project, The kext was initially only working on macOS Catalina and some selected Intel WiFi models later the dev released another kext called itlwm which is working with all the released macOS versions post macOS sierra and added support for more Intel WiFi cards.
As per the developers GitHub repo, the kexts supports the following Intel WiFi card models:
3xxx: 3160, 3165, 3168

7xxx: 7260, 7265

9xxx

:

9260, 9461, 9462, 9560

22000

:

ax200
The kext is currently in the development phase so some of the functions are broken like the wifi card appears as an ethernet connection in settings, so there is no WiFi icon on the toolbar. And also you cannot add new WiFi connections dynamically as the wifi connection details are hardcoded in the kext itself, so in future, after installing the kext if you change your wifi password or name you have to manually edit the wifi kext to make it connect again as of now.
See Also: Best wifi cards for Hackintosh laptop and PC.
Also, there are multiple issues reported by users in GitHub however, in my system the kext is working perfectly fine with intel ac7265
How to install Intel WiFi kext in macOS.
Download the itlwm kext from here and also download plist editor if you don't have already.

Open the kext file by right mouse click and show contents.

Open the info.plist file using plist editor.

Then in IOKitPersonalities > itlwm > WIFIconfig > WIFI_1

Add your wifi name and password. The kext as of now supports a maximum of 5 connections, you can add them in rest of the fields.

. Run the following commands in terminal to load the kext:
cd downloads/itlwm
sudo mv ./*.kext /tmp
sudo chown -R root:wheel /tmp/*.kext
sudo kextload /tmp/*.kext

The kext should load just fine and in settings > network tab, you will see a new ethernet connection, which is your wifi card.
Now you got your intel wifi card working on macOS however the above commands only loads the kext for the current session means whenever you shutdown or restart your system you have to enter the commands again to load the kext. To solve the issue you can add the kext into clover/kexts/others folder.
Note: Just to be on the safer side you do not install the kext directly into library/extensions as it might break your system if not loaded correctly. Installing it into clover makes it easy to bypass the kext if an error occurred.